November 9, 2012
Washington Wizards V. Milwaukee Bucks Preview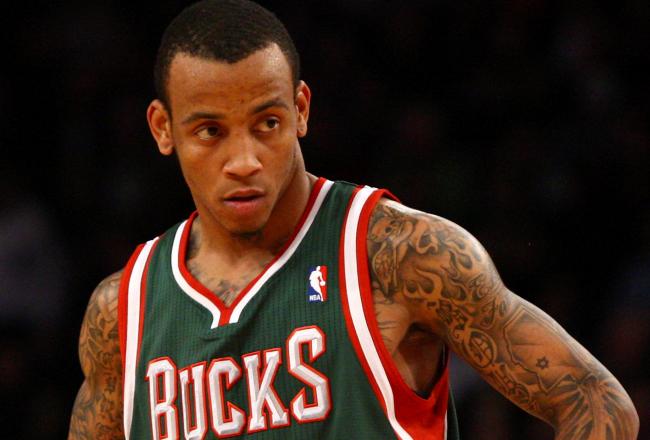 The Teams: Washington Wizards (0-3) vs. Milwaukee Bucks (2-1)
The Time: 7:00 PM
The Place: Verizon Center, Washington, D.C.
The History: The Wizards are 77-110 All-Time against the Milwaukee Bucks, going 1-4 last year. The Wizards won their last matchup against them, however, 121-112 at home.

Why you should watch: The Wizards could very well get their first win at home!
Since Washington started off terribly against the Boston Celtics at home last Saturday, they lost their home opener as a result. Bradley Beal and the rest of the starters were playing terribly, and were yanked in favor of Kevin Seraphin and Jordan Crawford. The two of them managed (albeit not singlehandedly) to cut a 16 point deficit to tie the game late, but the Wizards couldn't finish the Celtics off. Now they take on the Milwaukee Bucks, who are a shaky 2-1, and have a very good chance to take this one.
Led by PG Brandon Jennings and SG Monta Ellis, the Bucks are an offensive heavy team that doesn't really play a whole lot of defense. Their front court is less than daunting, with Samuel Dalambert not necessarily being the most dangerous threat down low, and Larry Sanders just coming into his own in the league. Basically, this means the Wizards are going to have a chance to score a lot of points, and have as good a chance as ever to pick up a win here.
Key Points and Storylines
1.) Bradley Beal vs. Monta Ellis
Bradley Beal finally started to take more than ten shots last game against the Celtics, much to the delight of Wizards fans, and the results were promising. With 16 points on 6-of-15 shooting, Beal wasn't shooting well but it was a major improvement over his previous game, where he didn't make a single shot (his only two points coming off free throws). Now he has a chance to go up against a player who plays worse defense than a misplaced traffic cone in Monta Ellis, so he could be primed for a big game.
Monta is a fantastic scorer, to be sure. He takes a lot of shots and defending him is a hassle given his quickness and ability to get the basket on slashes. But at a generous 6'2 (in Strength Shoes), Ellis is far from what one could consider a defensive strap. Other shooting guards routinely have career nights against this guy, and though I'm not suggesting Beal can do that, I do think he can have a pretty monster game.
If the Wizards can run a lot of plays through Beal (including some screens to get open from three), he may win this matchup against Ellis. Or rather, he could have a game that will whet the appetites of impatient Wizards fans who want results now.
2.) Kevin Seraphin's scoring streak
Seraphin has been nothing short of impressive for the last 16 games, of which he has scored 10 or more points in each of those games. On the year, Seraphin is averaging 17.5 points and 8 rebounds per game, and has clearly benefitted from his experiences during the Olympics this summer. He is playing with a confidence that is making fans forget that the guy he backs up (Nene) hasn't played a game this year. Tonight he goes up against Larry Sanders, who has just as notably stepped his game up this season, but will be facing a real test tonight against a very hot forward.
Seraphin's success has come from his newfound jumper, which is clearing up space for him down low to pull off some finesse moves. If he can continue to knock down 15 foot set shots on a consistent basis, the Seraphin will continue to have monster games against forwards that aren't as athletic as he is. It's simple math.
Prediction
The Wizards should very well win this game tonight for their first win of the season. They have been playing really good basketball lately, and while they haven't been able to close games out against the Celtics, they are due for one. Since the Bucks can't really play defense all that well, I'm going with the Wizards, who have actually played relatively well on defense.
Wizards win, 105-98
Tags: bradley beal, milwaukee bucks, nba, Preview, Washington Wizards